Due to the fact that mirroring isn't a common idea, we frequently discover that consumers are unsure of what to seek for when they need a solution. What phrase do you use to make your computer screen concurrently visible on your TV and other computers?
The convoluted response: wireless screen mirroring. Simply explained, screen mirroring, also known as screen sharing, is the technique of projecting the display of a phone, laptop, tablet, or computer onto a TV. Screen mirroring can be useful at both home and the office.
What is screen mirroring?
The ability to replicate or display the material from your current device's screen, such as a laptop, PC, or tablet, and display the same content on another screen or monitor is referred to as screen mirroring. When doing presentations in a boardroom, classroom, or any location where you might be presenting anything that you would like to have a larger audience to watch, this is most frequently used. Whatever you are doing on your smartphone is seen on the secondary monitor in real-time screen mirroring.
Mirroring technology is used in numerous fields, such as education, business, mobile gaming, and app development, to carry out a range of tasks. For these markets, we create market-beating applications.
Where Would Screen Mirroring Be Used?
Sharing screens is as easy as attaching an HDMI cable with one end to your TV and the other to your laptop or computer if those devices have HDMI ports. Because computers are becoming smaller and smaller, some laptops do not have an HDMI port. In this situation, HDMI adapters that work with your device can be available. Before buying the required cables and adapters, always check the requirements of your device.
Screen mirroring's advantages and benefits
The following are some significant benefits of screen mirroring:
To encourage teamwork, enable team members to rapidly and simply share their displays.
Support the BYOD (bring your own device) paradigm to boost productivity and cut costs.
With minimum assistance from IT, quickly plan meetings with scattered teams.
Gain total control over the shared material without having to fuss with complicated wires or device settings.
Use simultaneous screen sharing to increase output and foster collaboration.
You can give a presentation by sharing any screen from any device without the need for heavy hardware.
Screen Mirroring and Casting Comparison
A frequent query is how screen mirroring differs from casting or streaming to a TV screen. It truly depends on how it happens from a technological standpoint, but the ultimate outcome is typically the same. Some gadgets come equipped with casting tools, however their use may be limited because they need a wifi connection or an app to function.
Using a Wireless HDMI Transmitter and Receiver to Screen Mirror to a TV
The most common method of screen mirroring involves hardwiring a computer or other device to a secondary screen, like a boardroom TV or lecture hall projector, using an HDMI connection. The difficulty with these situations can be their physical constraints. This may need lengthy, expensive cable runs that are challenging to complete in some areas. Physical obstacles can make it difficult for you to quickly set up a system that enables you to connect a computer to that larger screen.
Typically, an HDMI connection is used to hardwire a computer or other device to a secondary screen, such as a boardroom TV or lecture hall projector. The physical limitations of the setup can make certain circumstances challenging. This may include elaborate cable routes that are expensive and challenging to install in some settings. It can be challenging to set up a system that enables you to connect a computer to that larger screen because of physical barriers you may run across.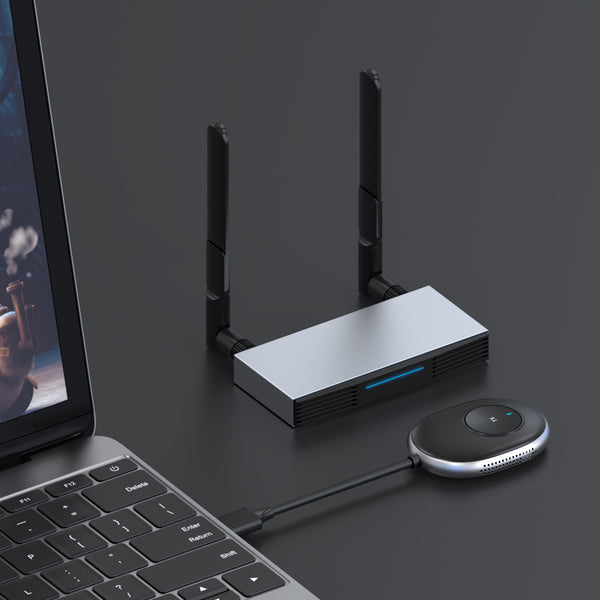 Extending wireless HDMI adapter with dual video outputs and a 4k@30Hz resolution from ProScreenCast SC02. No app or wifi is needed; just plug it in. Send your 1080P HDMI stream wirelessly up to 165 feet away without any latency or signal loss.
Wireless Screen Mirroring Devices
When sharing screens from mobile devices to TVs utilizing the wireless display standard Miracast, an HDMI connection is not necessary. Miracast is pre-installed and available for use on the majority of more recent Android and Windows devices. If you want to know if your device supports Miracast, look for an application or display setting that utilizes one of the terms below: screen mirroring, AllShareCast, cast screen, wireless display, wireless mirroring, Quick Connect, Smart View, or Screen Sharing. Click here for additional details on Miracast devices.
Mirroring Public Screen Without Security Risks
The type of connection needed for sharing content from your device to an external display is something to think about. Once more, installing apps is a common requirement for wireless screen mirroring technologies, which may connect your smartphone to risky foreign networks. By using a Wireless HDMI solution, you may securely replicate your content without having to worry about it.