Miracast is a wireless display standard that allows you to share what is on your laptop, tablet, or smartphone screen with a TV or monitor. It is similar to an HDMI cable, but it uses WiFi to connect the source device to the display.
This standard is useful for businesses because it allows you to share presentations and other content from your mobile devices on a larger screen. It is also helpful for homes, as it allows you to easily share content from your phone or tablet to your TV. So it is an essential technology for anyone.
Miracast also supports clear audio transmission over WiFi to ensure smooth playback of media and video.
How does Miracast work?
When two devices are directly connected, the transmitting device acts as the source and the receiving device as the display (the device receiving and rendering the content to the user).
You can watch your stuff wherever you want with Miracast. Miracast is a peer-to-peer network that functions similarly to Bluetooth in that it transmits screencasts generated with Wi-Fi Direct connections wirelessly.
This technology is essential for having a data flow that is up to 10 times faster than Bluetooth when you want to mirror what you do on one screen on another.
Miracast will build a WIFI network on your mobile device and the appropriate screen so that you can transfer content between them.
Why is Miracast a Necessity?
Imagine that you and your pals are in a room together, flipping through the TV stations in search of an excellent show to watch. Then, on your Android smartphone, you found the trailer for the most recent Star Wars film.
You have three options for spreading your joy throughout the room:
Everyone should assemble around your phone's little screen to see the trailer as you hold it out. The experience is utterly unpleasant because of the jostling with THAT guy's head constantly blocking the view.
Transfer your phone from one person to another until everyone has watched the shared content. But by the time the phone has been passed around the room, you are more worried about someone dropping it than you are about talking to your pals about the trailer.
Use Miracast to screen mirror the most recent Star Wars trailer from your phone to the TV. The best way to share content without getting up from your seat is as a result of this.
As you can see, Miracast is a beneficial tool to have on hand when you need to see phone material, like videos, pictures, and presentations, on a big screen.
Miracast is Like a Wireless HDMI Cable
The Miracast standard aims to eliminate the need for HDMI connections in the future. It enables wireless screen mirroring and helps devices to find, connect with, and discover each other.
TVs, video projectors, Blu-ray players, home theatre receivers, cable/satellite boxes, media streamers, cellphones, tablets, laptop PCs, and other devices all support Miracast.
Miracast is intended to be a cross-platform standard, in contrast to protocols like Apple's AirPlay (on the Apple TV) and Google's Chromecast (on the Chromecast and Android TV devices).
Since its sole purpose is screen mirroring, it lacks the "intelligence" seen in protocols like AirPlay and Chromecast. Miracast is best thought of as a wireless HDMI cable because these protocols can stream media to a different device and show a different interface on the screen of a single device.
What devices work with Miracast?
Screen-sending device: This is the device you are mirroring from (the device you want to share to another display). It could be a computer, tablet, or phone. To share content with other devices, these gadgets use a wireless communication mechanism like AirPlay, Miracast, Google Cast, or other software designed specifically for screen mirroring. You can screen mirror from a variety of devices, including Macs, Windows PCs, Chromebooks, Android phones and tablets, and more.
Screen-receiving device: This is the device to which you are mirroring your screen (the device you want to display your shared content on). Common hardware receivers include media players such as Apple TV, Chromecast, Amazon Fire TV Stick, and Roku. They have televisions with built-in screen sharing, as well as other hardware receivers created specifically for various screen mirroring systems.
How to determine whether your device supports Miracast?
Miracast should be supported by nearly all Android and Windows smartphones, Windows laptops, and smart TVs produced after 2014.
However, to make sure a certain TV or mobile is supported for Miracast or not, you must check the device requirements via their website on the device manual.
The website wifi.org also allows for searches.
You can purchase a Miracast receiver if your TV is Miracast-compatible. Utilize your TV as a wireless display by using this receiver. Here are the top Miracast products available right now.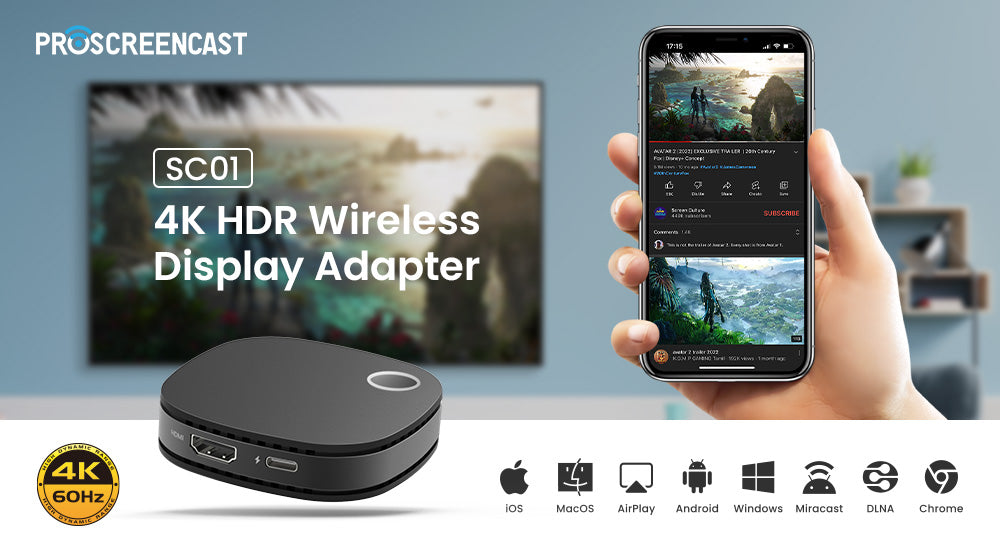 SC01 wireless display adapter can make you quickly cast photos and videos on a big screen. It supports up to 4K resolution, HDR color, and built-in 5Gwifi provides an ultra-low latency viewing experience. No need app; easy to use.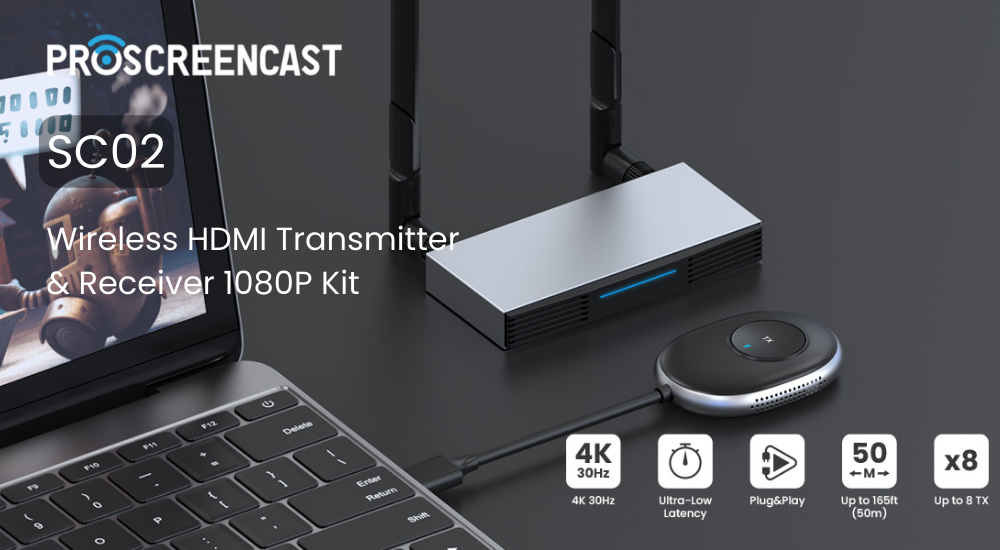 SC02 4k@30Hz Wireless HDMI Adapter Dual Antenna And Dual Video Outputs Extender. Plug and play; no app & WiFi required. Transmit your 1080P HDMI signal up to 165 feet wirelessly with no signal loss or latency. 
We provide you with screen mirroring devices at ProScreenCast, a leading screen mirroring manufacturer. We assure you of the high quality of each product, and we will try our best to ensure the perfect experience.